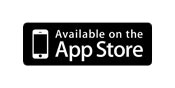 Gratitude Rock Journal - a Diary of Positive Thoughts
(Updated Nov 2017)
A positive thoughts gratitude journal or diary where you can record your positive thoughts of gratitude for each day while experiencing the relaxing sounds and images of the ocean. Wireless backup/restore/export.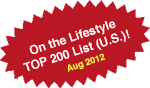 A key component of the Law of Attraction is gratitude. Gratitude Rocks are a unique way to remind yourself to be constantly thankful for all the good things in your life. Focusing on things you are grateful for will bring more of those things into your life and enrich your life.
This Gratitude Journal app is a positive thoughts journal or diary where you can record your positive thoughts of gratitude for each day while experiencing the relaxing sounds and images of the ocean. Add pictures to express your day's thoughts and feelings and read an inspirational quote of the day.
Features:
Get in a relaxing mood by listening to the sounds of the ocean waves hitting the shore.
Write multiple entries of your thoughts and feelings for each day in the journal.
Add up to 3 pictures per day from your iPhone's camera or photo albums to enhance your memories of that day. View the thumbnail images or select 'View Larger' to display a picture viewer and swipe horizontally to scroll through your daily pictures at a larger size.
Read an inspiring quote each day and copy it to the clipboard if desired.
Change the background picture to one of six built-in images or add your own picture from your photo album or camera.
Adjust the brightness level of the background image to enhance text readability.
Landscape mode support on most screens.
Email a day's text and pictures.
Set a daily alert with 25 sound choices to remind you to add to your Gratitude Journal.
View the contents of your journal as a web page wirelessly from your computer via your browser (local WiFi connection).
Select up to 4 fonts with 16 colors and adjust the text size.
Enable Auto Hide Buttons to have the buttons fade away after a few seconds so they are not in the way. Tap where they used to be to bring them back.
Easily go back and read your thoughts and view your pictures from any previous day by scrolling to a date. Advance forward/backward through the daily entries by using the previous/next buttons. Hold them down to auto advance.
Perform a text search on your journal to find important events from the past. Search the last 30 days, 90 days, or all your entries.
Backup or restore your pictures and text wirelessly to/from any desktop computer using your computer's browser (local WiFi connection).
Optionally secure all your information with a passcode to get access to your diary of information.
Change the date of any entry.
Enable or disable ocean sounds or additional sounds. Adjust the ocean volume level.
Display or hide the pictures and quote on the screen.
All dates are displayed using the device's international date format settings.
With our busy lives today, taking the time to write the things you are grateful for in this Gratitude Rock journal combined with the principles of the Law Of Attraction (book/movie: The Secret) can help you to enrich your life and reach your full potential.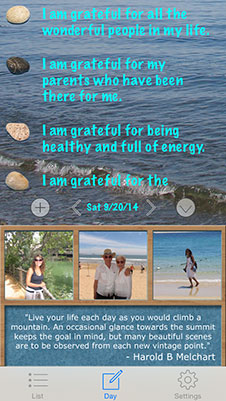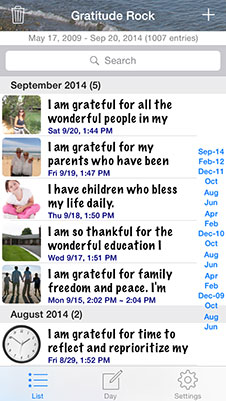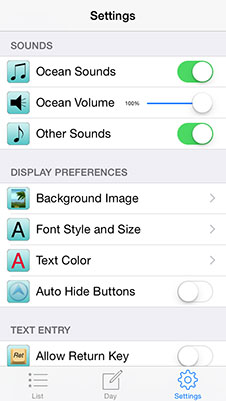 Testimonials from the iTunes App store:
"This app has a very peaceful feel to it when you're chronicling the things you're grateful for. The sound of the waves puts you at ease while the background is a nice scenic view. I enjoy it." - Taliss
"This is a wonderful application to help you develop and maintain your gratitude attitude. Great way to stay positive and reflect on life's many blessings each day." - Tigris37
"I use it every day as part of my Appreciation ritual. Highly recommended!" - JZ
"This is a fabulous app for journaling my blessings." - Faith10
" A creative inspiring tool." - Mr.Gratitude
"I absolutely love this app! This is exactly what I needed. Great application!" - Living_Golden
"This is such a great app." - uluvsweetsdontu
"Well designed application!" - Synergy Beads
"This is now my favorite app!!!" - Lauraeli
"This is so positive and I love it." - SuperChic007
"...a great journal app to have on your iPod or iPhone." - km2783
"The app., that gives back! I loved this app." - AnaO10607
"I really love this application because it helps me to be thankful every day for all the great things I have in my life" - Maybelline_200M
"Fantastic application!! Love it :)" - Sera1979 - Canada
"This is a great application!" - FrankieP - United Kingdom
"Perfect...Easy to organize your thoughts in a simple way..." - Chrisylime
"This is a lovely simple way to become centered. Thanks" - RVLou